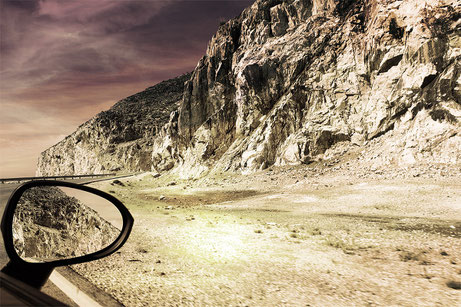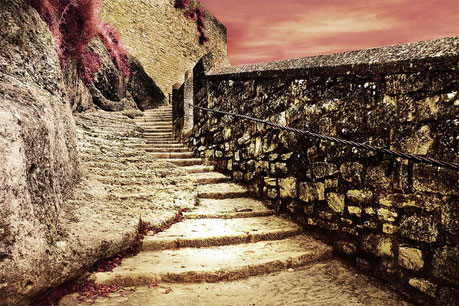 (EN)
THE INSPIRATION
The original photographs which compose "Violet sunset" were taken in the Summer of 2013 in Ronda (Spain) and its surruondings, a place proclaimed cultural heritage of the world by UNESCO. 
The city has its origin in the neolitics. Its beautiful little streets and lands, where the tourists today walk happily by, have as well a sad past, as the town survived through many different wars.
When I was there, I did try to imagine how could be the life for the people who lived there those days before the war, imagining a beautiful but dramatic violet sunset before the chaos.
THE PHOTOGRAPHY WORK
"Violet sunset" is a photography work composed by 6 photographs. Each photo is based in a different sight of diverse historical places in Ronda (Spain) and its surroundings. 
All the pictures - except for one- reflect those places empty and calm, being able to belong at any time in its history. The one which shows the driving mirror returns the viewer that the picture was taken at the present time, but inviting him to travel on time. 
The dramatic colours are there to suggest that despite this calm, something is going to happen and actually did happen, a lot of battles took place in those scenarios.
TECHNICALS CHARASTERISTICS
The six photographs can be customized in different sizes, with a maximum size of 120 cm wide.
---
(Ñ)
LA INSPIRACIÓN
Las fotografías originales que componen "Violet sunset" fueron tomadas en el Verano de 2013 en el pueblo de Ronda (Málaga, España) y sus alrededores, un lugar proclamado Patrimonio de la Humanidad por la UNESCO.
La ciudad tiene sus orígenes en el Neolítico. Sus bonitas callejuelas y campos, dondo hoy los turistas pasean felizmente, también tuvieron un triste pasado, ya que la metrópoli sobrevivió a múltiples guerras.
Cuando estuve allí, intenté imaginar cómo pudo ser la vida para la gente que vivió allí aquellos días antes de la guerra, imaginándome un bello pero drámatico atardecer antes del caos.
LA OBRA FOTOGRÁFICA
"Violet sunset" es un trabajo fotográfico compuesto por 6 fotografías. Cada foto fue tomada en distintos lugares históricos de la ciudad de Ronda (España) y sus alrededores.
Todas las imágenes -excepto una- reflejan todos estos sitios vacíos y en calma, pudiéndo pertenecer a cualquier época histórica. La foto que muestra el espejo retrovisor de un coche avisa al espectador de que la fotografía fue tomada en el presente, pero invitándolo a viajar en el tiempo.
Los dramáticos colores están ahí para sugerir que a pesar de esa calma, algo iba a pasar y, de hecho, pasó, ya que estos lugares fueron los escenarios de diversas batallas históricas.
CARACTERÍSTICAS TÉCNICAS
Todas las imágenes pueden ser adaptadas en varios formatos, con un tamaño máximo de 120 cm de ancho.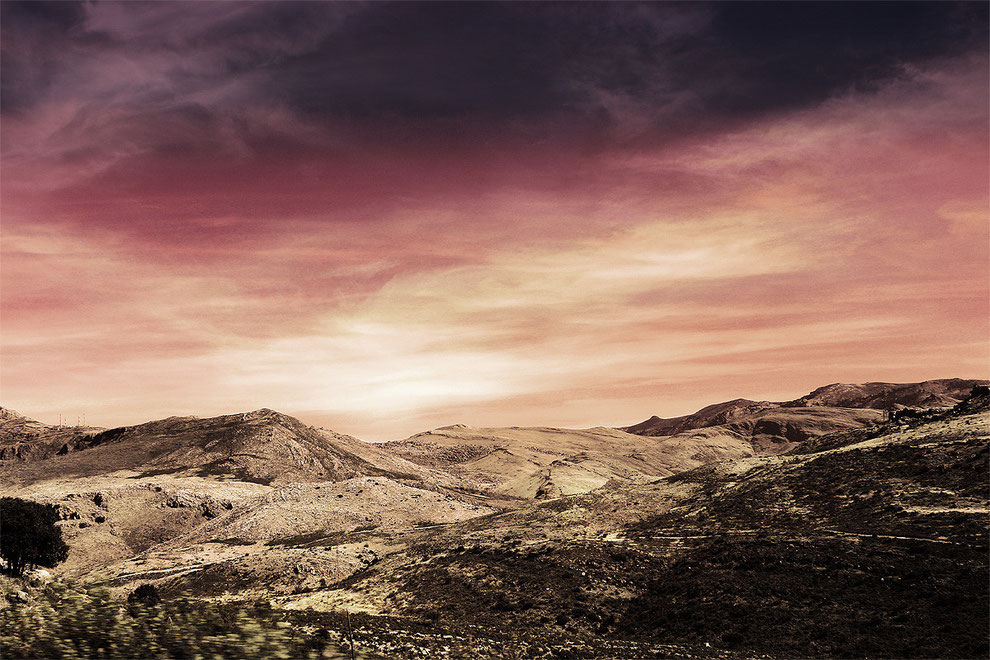 ---
---

Soy Sara Escudero, autora de este post.
Me dedico al diseño Web, SEO, marketing digital y la fotografía.
Aquí puedes saber un poco más -> sobre mí.
---
---