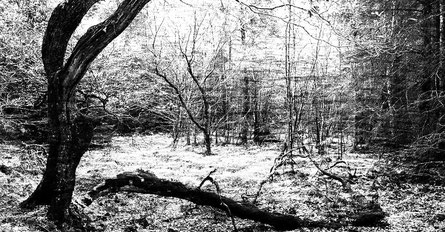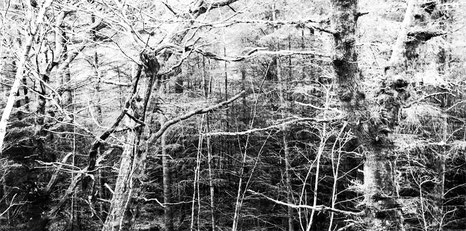 (EN)
THE INSPIRATION
The original photographs which compose "Deep forest, deep sea" were taken in Autumn of 2013 in Glendalough (Ireland), a natural reserve consisting in a huge forest situated in a valley. 
When I was walking into the top of one its mountains I took these photographs, realising that the forest was every time deeper, leafier and with almost no space to walk by. 
The sensation was almost as if I was into the sea, lost, surrounded by millions of branches, in the silence, but with air instead of water.
Afterwards, I worked the photos with the computer to transmit the sensation that I felt.
THE PHOTOGRAPHY WORK
"Deep forest, deep sea" is a photography work composed by 6 pictures. Each picture is based in a different photo which show a distinct sight of the Glendalough Wood (Ireland). They are also lightly mixed with an extra light transparency with a photo of the Mediterranean Sea. 
That mixure makes the viewer dive into the wood paying special attention in the different textures which are mixed. 
Those textures are, at the same time, quite different depending on the point of view of the viewer: the farther of the picture you are, the clearer are the different two photos (wood and sea), getting a similar effect as an impresionist painting.
TECHNICALS CHARASTERISTICS
The six pictures can be customized in different sizes, with a maximum size of 120 cm wide.
---
(Ñ)
LA INSPIRACIÓN
Las fotografías originales que componen "Deep forest, deep sea" fueron tomadas en el otoño de 2013 en Glendalough (Irlanda), una reserva natural formada por un bosque enorme situado en un valle.
Cuando caminaba para alcanzar la cima de una de sus montañas, tomé estas fotografías, percibiendo que el bosque era cada vez más profundo, frondoso, sin casi espacio para atravesarlo.
La sensación era casi como si estuviese dentro del mar, perdida, rodeada por millones de ramas, en el silencio, pero con aire en lugar de agua. 
Más tarde, trabajé estas fotos con el ordenador para transmitir esta impresión que sentí.
LA OBRA FOTOGRÁFICA
"Deep forest, deep sea" es un trabajo fotográfico compuesto por 6 imágenes. Cada imagen está basada en una fotografía que muestra un punto diferente del Bosque de Glendalough (Irlanda). A su vez, todas están mezcladas con una fotografía casi transparente del Mar Mediterráneo.
Dicha mezcla hace que el espectador se sumerja en el bosque prestando especial atención a las texturas.
Esas texturas son, al mismo tiempo, bastante distintas dependiendo del punto de vista del espectador: cuanto más lejos se está de la imagen, más claras se hacen ambas fotos (bosque y mar), obteniendo un efecto similar al de una pintura impresionista.
CARACTERÍSTICAS TÉCNICAS
Las seis imágenes pueden ser adaptadas en diferentes tamaños con un máximo de 120 cm de ancho.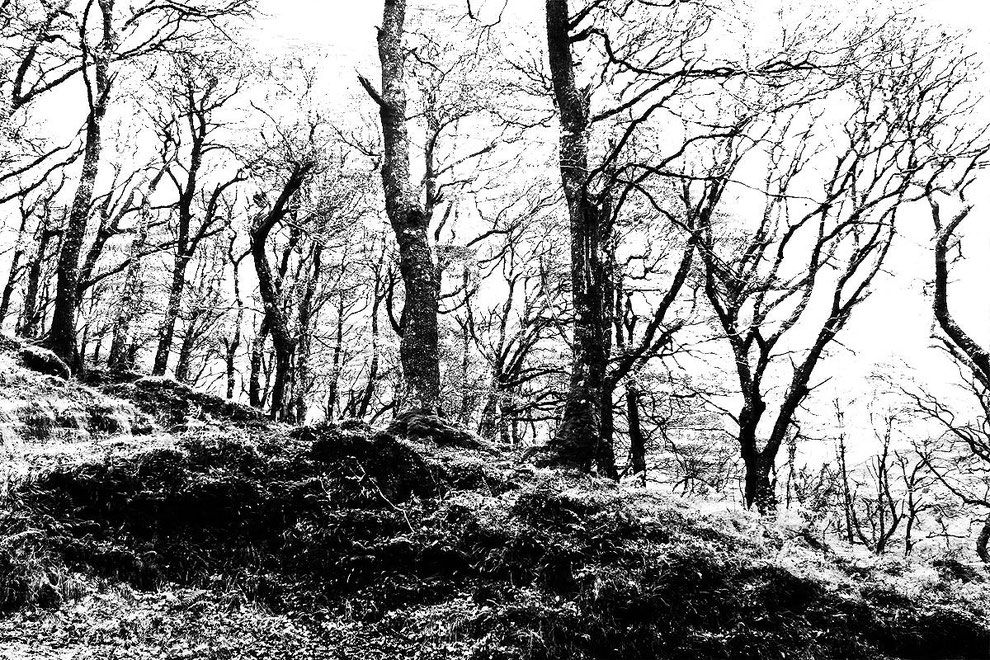 ---
---

Soy Sara Escudero, autora de este post.
Me dedico al diseño Web, SEO, marketing digital y la fotografía.
Aquí puedes saber un poco más -> sobre mí.
---
---